Elite University Preparation Programme Schedule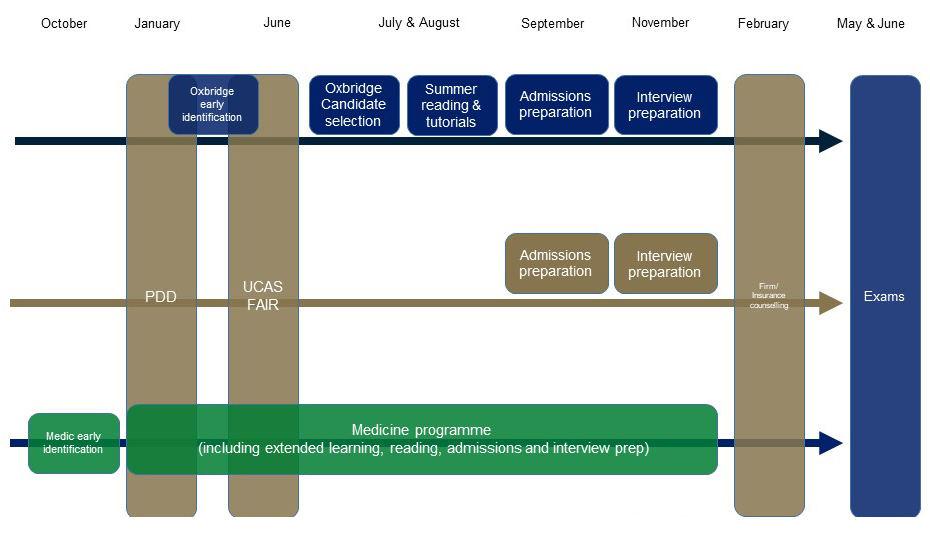 A Level, Year 12

Students joining the A Level programme in September will spend their first term attending Abbey Inspires evening academic lectures and activities whilst they settle into the academic programme. Abbey Inspires events are held throughout the school year and focus on topics above the traditional A Level syllabus. Sessions are delivered by Abbey College Cambridge teachers and guest speakers from the world of academia and industry.
At the same time, personal tutors will conduct informal meetings with students with their students to discuss their university aspirations.
In January year 12 students will join our Pre-Degree Diploma Programme. This forms the core of our elite university preparation programme, with two extra hours of in-class teaching each week, supplemented by out of class study. There are multiple subject areas for students to choose from, these are based around the most popular university study areas, such as Medicine, Computer Science, Engineering, Law and Business – but we can also support students who want to pursue less commonly chosen subjects. Sessions are led by Abbey College Cambridge tutors who are also subject experts.
For the remainder of year 12, the Pre-Degree Diploma will focus on knowledge building in their chosen subject. At first developing a broad understanding, before working with their tutors to concentrate their reading on the particular topics that interest them most. Reading is set at an undergraduate level.
Year 12 culminates in our end of year Pre-Degree Diploma Conference, where students work in small ground to develop and present a research project based on their area of interest to the rest of the school.
A Level, Year 13
From the start of year 13, the focus of the Pre-Degree Diploma moves knowledge building to university application and preparation. Students will work with a specialist UCAS Tutor for their subject area to refine their university application and personal statement, and to prepare to sit any admissions tests or interviews required by their target universities.
Oxbridge and Medicine & Dentistry candidates will have their applications approved and submitted by the mid-October deadline. Applications for all other university courses will be submitted by the end of November (ahead of the UCAS deadline in late January). The Final application submission is overseen by our Directors of Studies, who are experts in the university application process, working in partnership with our UCAS Advisors, Department Heads, and Personal Tutors.
Oxbridge applicants will be invited to interview in early December, and we will finalise our students interview preparation during November and December.
British universities usually issue offers between November and May, during this time our UCAS advisors and Directors of Studies will continue to council students and to be available to them.