The UK has a world renowned reputation for its quality of its education. The qualifications offered by British schools, colleges and universities are recognised as hallmarks of excellence and distinction. Four of the UK's best universities – Oxford, Cambridge, University College London (UCL) and Imperial College London – consistently feature in the world's top ten, so it should come as no surprise that employers around the globe look favourably on UK graduates.
The benefits of studying in the UK education system stretch far beyond the qualifications and the certificates. English is the language of international business, and fluency is one of the most important skills that any ambitious student can possess.
By studying at Abbey College Cambridge you will be given an unparalleled opportunity to gain entry to the best UK universities, the chance to improve your English, and to make the best possible start to your career. Every year hundreds of students choose come to the UK to study with us because they are ambitious, hungry to succeed, and recognise the quality of the education that we provide.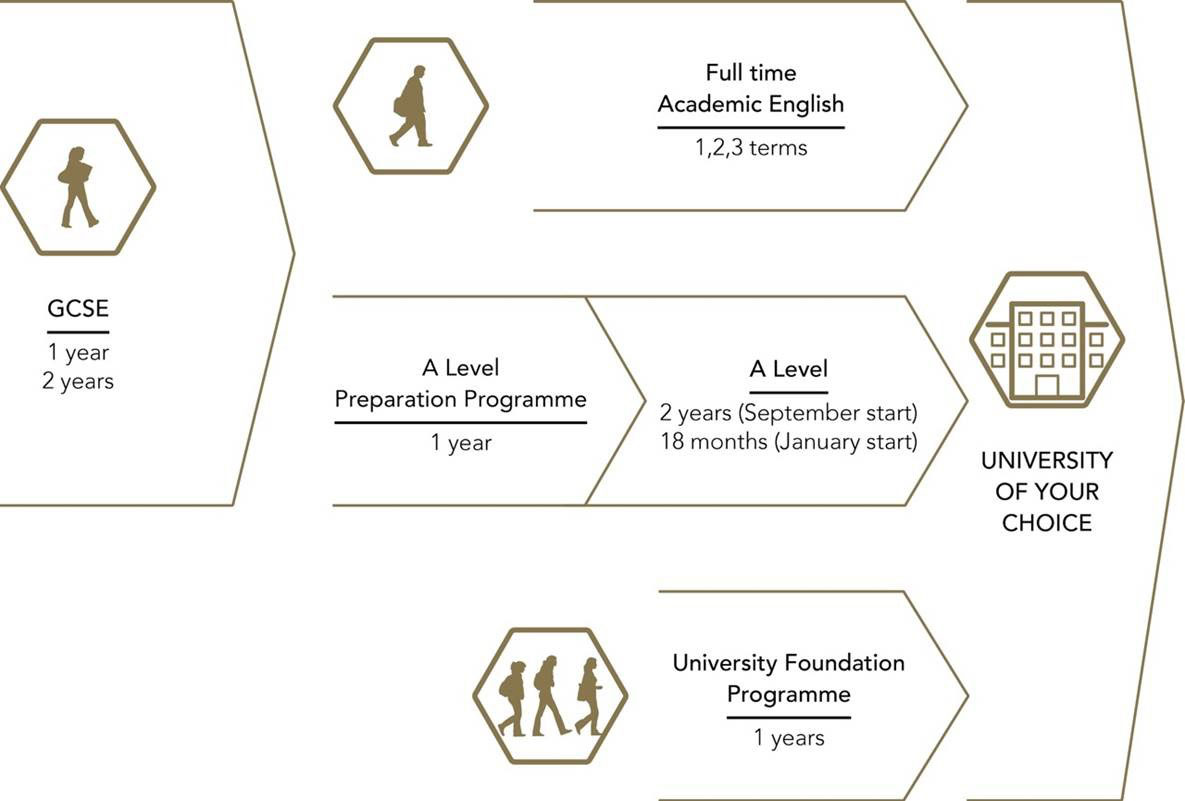 UK QUALIFICATIONS EXPLAINED
General Certificates of Secondary Education (GCSEs) can be studied over one year, two year and 18 month periods. Students are typically aged 14 – 16 years on entry. Students study up to 9 subjects, with some compulsory and some elected. Grades are awarded numerically from 9 (the highest possible grade) down to 1. GCSE courses represent the first stage on the path to a UK university, and many institutions will ask for at least 5 passes at grade 5 or above for entry (often including GCSE English and Mathematics passes).
Advanced Level courses, known commonly as 'A Levels' can be studied over two years or 18 months. Students are typically aged between 16 – 19 years on entry. They study 4 or 3 subjects. Grades are awarded from A* (Highest grade) down to E. A Level courses are the most commonly recognised qualifications for entry to UK universities.
Our own International Foundation Programme is a one year course designed to offer direct access to study at top UK universities. Students choose to focus on one of five subject specific pathways; Business Management and Economics, Humanities, Medicine or Science. Results are given as a percentage score out 100. Many of our Foundation Students move on to study at the elite 'Russell Group' of top UK universities (41% in 2019).
EXAMPLES OF INTERNATIONAL GCSE EQUIVALENT LEVEL QUALIFICATIONS
Country

GCSE Equivalent Qualification*

China

Compulsory Education Certificate/Lower Secondary School Graduation Certificate

Kazakhstan

Certificate of Completed Secondary Education

Malaysia

SPM (Sijil Pelajaran Malaysia)

Nigeria

General Certificate of Education Ordinary Level
Senior School Certificate
West Africa Senior School Certificate

Russia

Аттестат о среднем (полном) общем образовании (Certificate of Secondary (Complete) General Education)

United States

High School Graduation Diploma

Vietnam

Bằng Tốt Nghiệp Phổ Thông Trung Học (Upper Secondary School Graduation Diploma)
*These comparisons are intended for illustrative purposes only. To discuss your qualifications further please contact a member of our college admissions team.
UNIVERSITIES & COLLEGES ADMISSIONS SERVICE (UCAS)
The Universities and Colleges Admissions Service (UCAS) is a charitable organisation through which applications to study at most British universities are processed. Students can apply for up to five university courses, and the application process is conducted  entirely online.
Almost all of our students join us as the first step on a journey that will take them on to study an undergraduate degree course at a top British university. We place a high importance on the UCAS application procedure. For our A Level and International Foundation Programme students, preparation for their UCAS application begins in their second full term of study, and is integrated into our Pre-Degree Diploma Programme. Personal and Subject tutors, Directors of Studies and our Vice Principal Academic support students in drafting their personal statements and providing school references.
We support students making an application through UCAS by offering:
Individual discussion of chosen courses and academic institution . seminars, dedicated UCAS weeks and visits to university open days.
A full explanation of the process from UCAS application to university acceptance. Detailed advice concerning the completion of the UCAS form . Supervision throughout the UCAS application process. Advice on and visits to university open days . Help with the organisation of internships and work placements in both industry and academia . Help with the organisation of voluntary work and work-shadowing placements. Supervision throughout the UCAS Extra and UCAS Clearing processes.