Described by Lonely Plant as "Abounding with exquisite architecture, exuding history and tradition, and renowned for its quirky rituals, Cambridge is a university town extraordinaire. The tightly packed core of ancient colleges, the picturesque riverside 'Backs' (college gardens) and the leafy green meadows surrounding the city give the city a tranquil appeal."
But what do our students love about studying in this inspiring environment:
Zhamila
I like that Cambridge is tiny but at the same time very interesting city. It has remarkable buildings dating back hundreds of years and many historic museums.
Yunsi
A quiet city with residents behaving in appropriate manners. I feel very secure actually. The science and humanities festivals are extraordinary and brilliant opportunities for exploring interests in various subjects, so do have a go for some lectures and activities.
The transportation is also convenient. You can travel to a lot of places with city coaches or a train to other cities, including London.
Seohee
I love the tranquil and studious atmosphere.  In Cambridge, I would recommend punting, the city tour, leisure park, book shops, and Wasabi.
Angelina
I think that nature here is quite nice, I even met a fox once. The old buildings are interesting and it's cool that we can try punting!!!  also, the market in the city centre is awesome. that railway station is close to our college and that Cambridge isn't far from London
Nan
Cambridge is a safe, student-friendly city with many historical buildings to explore. Most importantly, Cambridge feels like home so international students would be able to adjust to the new environment in no time!
So as you can see our students certainly feel at home in Cambridge and it has a lot to offer in theatres, shopping, museums, coffee shops, sports and lovely green spaces in which to relax.
One Cambridge tradition they refer to is punting, a must for any visitor.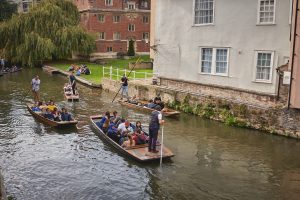 Traditionally used to transport cargo, boat punting became a popular leisure activity between 1860 and 1880 on the River Thames in London. Now, Cambridge is probably the first place that many people think of associated with punting. The River Cam runs through the city and punting offers you the perfect view of some of the most prestigious and oldest university colleges.
Please come and visit and witness for yourself the thriving Cambridge atmosphere.