Whether it be sport or something creative and artistic, Abbey College provides it all through a range of clubs to suit the passions of the students here. It is extremely important for a student to participate in at least one club, as it helps develop skills and interests within you, which can help strengthen your university applications as well. At Abbey, many students attend at least one sports club, since it's a great way to keep your physical and mental health in a good state along with being a great way to de-stress after a long day at school. If you are looking for that, then you might want to consider joining the running club on Fridays at 4:45 pm – 5:30 pm, which is run by the houseparent Sian. Ladies can join the ladies' sports night on Fridays at 7 – 8 pm with Helen Winter, which features a variety of sports (basketball, netball, etc.). For other types of physical activity, there is the dance club and yoga club, both at 4:45 pm – 5:30 pm, on Wednesday and Thursday respectively. The dance club is open to both boys and girls, with the teacher being able to cater for whatever the students want to do. At the moment, that's K-Pop.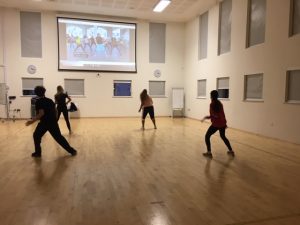 The yoga club, on the other hand, is great for de-stressing, general well-being and flexibility; a nice chance to relax after a long day. Other students may prefer clubs that are not as physically demanding, opting to develop their artistic or creative side, such as the Art Club, run by Serena, our art teacher. You don't need to have any talent to join the club, as long as you have something artistic you want to do, so check out the club! The Creative Writing Club, run by Nigel on Mondays at 8am, is also a fantastic way to express yourself with words instead of visual art. The club can help improve your speaking and writing abilities, along with your creative thinking. Apart from sports and creative clubs, Abbey also provides students with music rooms where you can practise your instruments in private lessons or play with a band. From jazz to classical music, the bands in our school play it all! If there is anyone you'd like to form a band with, don't hesitate to talk to John Morgan about booking a time in the music practice rooms.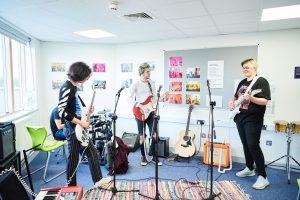 Mr. James Learmonth runs the karaoke club, which is still running on a Tuesday 5-6pm:
What would you say is the appeal of the karaoke club that makes it unique from the other music clubs?
"The club gives students an opportunity to sing and express themselves. I myself am a private singing teacher, so I can give students coaching and the opportunity to improve their singing technique. With everything going on right now in the world, music is a great way to relieve stress, enjoy yourselves and to relax."
Is there anything you'd like to tell students who are possibly interested in the club? "Come along if you're interested in singing or if you want to learn some ways to improve your singing techniques. The club is open to all students and you can sing whatever you want – there are no restrictions on what songs are allowed. There's no need to feel shy, as everyone comes to the club to enjoy themselves."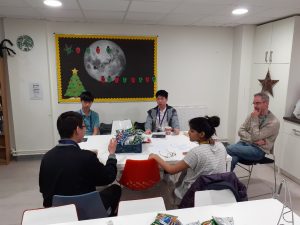 If you would prefer to join one of the many clubs in our school that help further your interest in one of the subjects that you might want to study at university, the school has you covered. Many clubs specialize in a certain subject, such as Chemistry or Maths Masterclass, Astronomy Club or the Electronics Club. All of these clubs help students who either want to know more about the subject they love or students who may be interested in a certain area of a subject. Apart from the clubs mentioned above, the boarding staff also provide clubs over the weekends. Take the Anime Club for example; you will be able to dive into animated shows with a group of people as a group viewing with discussions afterwards! Perhaps you'd prefer to debate certain topics to improve your skills? The Debate Club is on from 2 – 3 pm on Sundays in the block B library, run by Mark Thorpe.
Written for the student newsletter, The Abbey Times, December 2020.  To view the whole edition, please click here