Each year at Abbey College Cambridge, we hold the House Music and Creative Arts Competition, when students show off their musical skills and compete for the house music trophy. As we could not hold face-to-face concerts in the hall this year, we decided to record live performances instead. A professional audio engineer, a videographer, and a lighting specialist came to the hall, and 13 different acts performed their music. We had an amazing variety of performances – pop songs, poetry, classical music, and a Chinese flute. Some of the students performed pieces they had written themselves.
This year we were delighted to have Valerie (Reception) judging again, and new judges Simon (Catering Manager) and Mike (Operations Director). Each judge chose three acts to be considered for the final. Interestingly, no one was chosen by all the judges, which shows how close the competition was. From the judges' decisions, we made a final 3,  who were Richard from Athena with his original song, Time to Say Goodbye, Hannah from Juno (with a little help from Ian in Zeus) and David from Juno with New Songs of Herdsmen on the Bamboo Flute . These three were played to all students, who voted for the winner.
The overall individual winner was Hannah and Ian with their amazing performance of Adele's song When We Were Young. The House winner was Juno with performances from Hannah, David and Clover.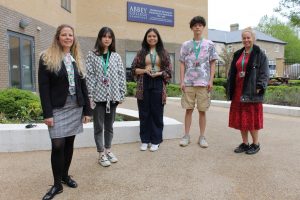 The three finalists can be viewed below
All the performances are available Youtube for you to enjoy by clicking here. I think you will agree that every video is of an astonishingly high quality, and that all the participants are incredibly talented.
Many congratulations to Hannah and Juno house, but a very well done to everyone who took part.